Philippines - Manila
FIT College was formed with one simple goal: To graduate quality Personal Trainers ready to work in any fitness environment. Since our inception, we have worked tirelessly to provide high quality courses, practical and varied learning materials, and a broad range of interesting and helpful resources to help in learning more to create highest quality personal trainer courses and fitness courses available.
FIT College is proud to be offering our premier level of Fitness Education and international portability benefits to the Philippines with world class local support by highly trained local professionals. Our course is designed to be delivered via correspondence with all students provided with On-Campus Education and support from our Campus in Manila.
Your Education can be started immediately through our online Cloud Campus equipped with communication systems to our Manila Education team, Classes are run regularly where you attend Face-to-Face delivery of your course and receive all the guidance you need to become an Internationally recognised Personal trainer.

Campus Contact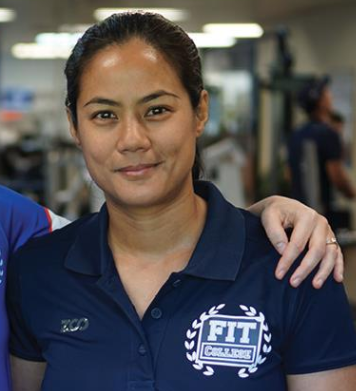 Meet Reema Chanco-Waldie, your Career Advisor!
Campus
Address
Electra House Building, 115-117 Esteban, Legazpi Village, Makati
Metro Manila
Globe/TM:
smart/TNT:
Gym
Address
Fitness District Makati
Electra House Building, 115-117 Esteban, Legazpi Village, Makati
Metro Manila
Phone
Upcoming Intake
| Course | Type | Days | Date | |
| --- | --- | --- | --- | --- |
| Online Courses | Full Time | 7 days | 01/05/2019 | Enquire Now |
| Online Courses | Part Time | 7 days | 01/03/2019 | COMMENCED |
Testimonials
This course is one of the most thorough courses I've taken. It is very detailed and easy to study. Even though there is a lot of homework, it guides us towards experience and will help a lot once we work professionally in the fitness industry. I love that it comes with a gym membership and physical classes, and what's even better is that we have mentors and a support group. The course is internationally recognised and accredited which gives us an opportunity to work here and abroad. I highly recommend this training school!
Sasja Mulder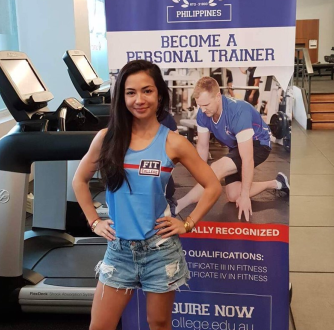 Campus Facilities
FIT COLLEGE PERSONAL TRAINER COURSE
Certificate III in Fitness – SIS30315
Certificate IV in Fitness – SIS40215
ICREPS GLOBAL PORTABILITY
Global Portability Matrix
Check Portability for Australian Portability
Fitness Australia Registration
Gym Facilities
Pedestrian access direct to gym
Male and Female Change rooms/Showers
Walking distance to all major public transport
Fitness studio
Group fitness
Free weights
24/7 facility
Legazpi Village in Makati